Directions / Vicinity
Access Information
Conveniently far, yet conveniently close.
About a 90-minute car ride from Kobe and Osaka.
By Car
・Closest Interchange:
 Takino/Yashiro Interchange on Chugoku Expressway
・About 60 minutes from Osaka and Kobe
・About 60 minutes from Himeji
By Train
・Closest Station: JR Nishiwaki-shi
 Take a 40-minute bus ride
 from Nishiwaki-shi Station and get off at Tawarada
By Bus
・Shinki Bus
 (operating between Nishiwaki Eigyo-sho and Ohya)
 Closest Bus Stop: Tawarada; and walk 5 minutes
Yachiyo has tons of ways to enjoy yourself throughout the year.
Refresh your mind and body away from the hustle and bustle of a city.
We offer a true richness of the heart from deep within.
Enjoying the scenery and various activities, members are increasingly widening their network of friends.
Yachiyo-ku Event Calendar
January

: Hike up Shiro Yama for Sunrise Worship

March

: Hatsuuma Shinto Festival

April

: Cherry Blossoms at Their Peak / Flying Carp

June

: Tawarada Firefly Circle

September

: Children's Art Show with Painting of Uncles and Aunts

October

: Fall Festival of Kibune Shrine

November

: Home Industry Exhibits of Takacho

November

: Takacho Cultural Festival

November

: Harvest festival

December

: Winter Festival
Freuden Yachiyo works with urban residents and local residents to beautify the local hills.
Members also coach the tennis clubs at the local junior high schools and participate in music activities to widen their activity networks.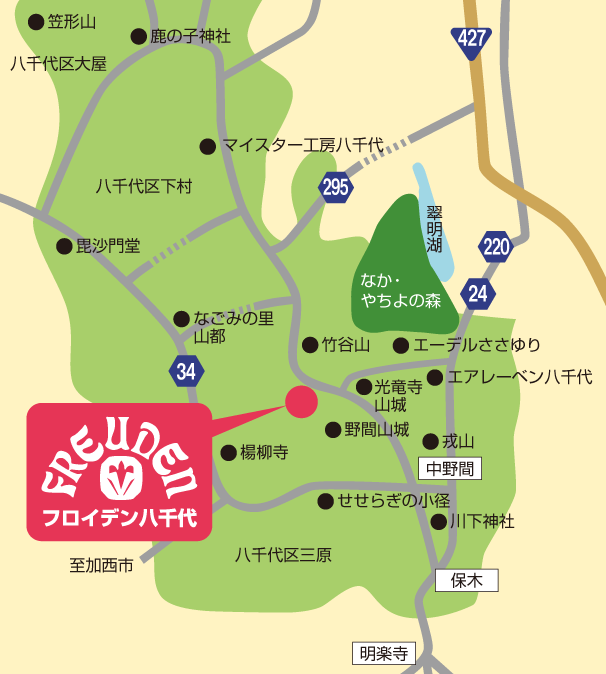 Vicinity Information
Meister Kobo Yachiyo

Nakamura, Yachiyo-ku

A complex functioning as a processing and sales center committed to home cooking, and as a cultural center. It is fondly known to the locals as a "convenience store of the rural community."

Edel Sasayuri

Nakanoma, Yachiyo-ku

An A-frame resort complex reminiscent of Bavaria in Germany.

Erleben Yachiyo

Nakanoma, Yachiyo-ku

This complex houses a restaurant that serves the Tofu kaiseki using home-made tofu, as well as offering guests opportunities to process tofu and to make soba noodles.

Firefly Circle

Each area of Yachito-ku(Each area has their own schedule.)

In mid- and late-June every year, many fireflies appear in a variety of locations in Yachiyo-ku. Their fantastical beauty attracts many visitors from Osaka and Kobe. Our parking spaces are limited. Please use adjacent parking lots.

Mt. Kasagata

Oya, Yachiyo-ku

Also called Harima-Fuji, it stands 939m high in the northwest part of Yachiyo-ku. Ideal for hiking, it affords you panoramic views of the Sea of Harima and the mountains of Tajima.

Kanoko Shrine

Oya, Yachiyo-ku

This is a venerable shrine where Sakanoue no Tamuramaro (a general and shogun of the Heian period) came to visit.In the spring, cherry trees dotting the shrine grounds proudly reach full bloom.

Bishamondo Temple

Kamimihara, Yachiyo-ku

The prefecture designated cultural asset "Bishamondo Temple" was built seven hundred years ago, housing a "Hannya Juroku Men Zenshin Gazo"or a silk roll painting of Hannya sixteen faced good demon. "There is a trail with restrooms in the surrounding sacred woods and you can enjoy the beauty of red leaves in the Fall."

Naka-Yachiyo Woods

Tawarada, Yachiyo-ku

A nature park spreading through the local hill sides of Naka You can overlook the panoramic view of Kita-Harima's mountain row. In the Fall, it reflects beautiful colored leaves on the Suimei Lake in the Fall.

village with peace and mind "Nagomi-no-Sato, Yamato"

Nakamihara, Yachiyo-ku

In the old samurai mansion style Communication Center that reflects the history of Ako domain era,you can enjoy its slow food.

Mt. Taketani

Tawarada, Yachiyo-ku

Scenic beauty place listed as "Top 100 Tourist Destinations of Hyogo". The rocky gorge welcomes you with its odd-looking landscape. Walk along the trail and the vista points. Many hikers visit for enjoying cherry blossoms in the Spring and colored leaves in the Fall.

Nomayama-Castle and Koryujiyama-Castle

Tawarada, Yachiyo-ku

"Nomayama-Castle was a fort for 220 years since the Nanbokucho-era. the Nomayamajō-Castle acted as a fort while the Kōryuji-Casle was the place to reside for the lords." At east side, Koryujiyama-Castle was located where was the place to reside for the lords. Nice hiking trail around in the rich deciduous trees.

Mt. Shiroyama

Nakanoma, Yachiyo-ku

Fine vista place of cherry blossoms in south area with plenty of sun. For cherry blossom viewing, use Ebisu shrine parking lot.

Yoryuji-Temple

Ryusanji, Yachiyo-ku

For long time, being loved as "Kannon Bodhisattva of Yanagi" and attracting visitors from entire Harima region for the belief that it has a power to help relieve headaches and limb pains. A trail goes around the whole woods and you can enjoy beautiful nature like cherry blossoms in the Spring and colored leaves in the Fall.

Seseragi no komichi Trail

Nakanoma, Yachiyo-ku(Hananomiya-Shimomihara area)

A hiking trail along the Yamatogawa-River between Nakanoma and Shimo-Mihara. Enjoy the seasonal beauties of the nature.

伊勢大神宮社

Tawarada, Yachiyo-ku

正殿は寛文九年(1669)年に建立され、現建物は棟札によって宝暦七年(1757)年に再建されました。ご祭神は俵田地区の氏神「豊受大神」など他二神が祀られています。昔は雌雄二つの獅子舞を上げていましたが、毀損して今は行われていいません。