Facilities
Facility Overview
Freuden Yachiyo is community garden that created as one of the practical exchange experience efforts between urban and rural communities, these 60 parcels are the first of their kind in Japan.
Our facilities were designed after the Kleingarten in Germany. Through the carefree stays here, we offer you peace of mind and plenitude by inviting you to experience the joy of farming and refresh your mind and body.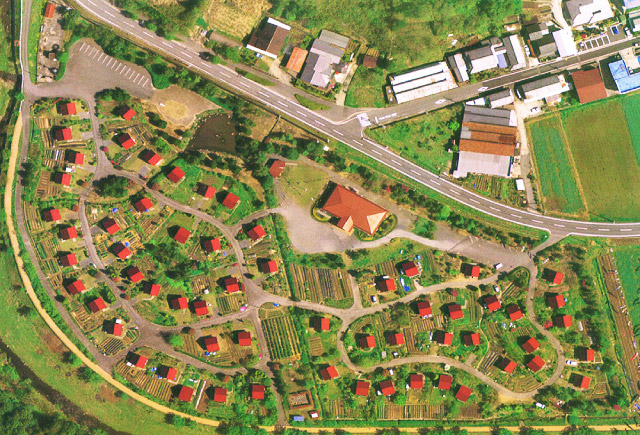 POINT
Forums for communication between urban and rural communities include an assembly hall, a conversation room, a processing room where you can process things like miso paste, and a cooking classroom where non-member community residents can participate.
An amphitheater is available for a variety of events. We also have a shared-use garden.
Facility Overview
Site Area

35,000㎡

Parcels

60 Facilities

Facilities

Lodging Facilities 60
Administration Building: 1, wooden, single-story :19.87 square meters
Exchange Center Steel-frame, single-story :321.84 square meters
Amphitheater 1 steel-frame

Incidental
facilities

Exchange Center
Amphitheater
Common parking lot

Address

414 Tawarada, Yachiyo-ku, Takacho, Taka-gun, Hyogo 677-0113 
What Is Kleingarten (lease-based community gardens)?
The farmland leasing system popular in Germany is the prototype.
Members sign a lease agreement to grow vegetables, fruits, and flowers while staying in a cottage built inside the parcel.
The system features community farming instead of independent farming.
Lending itself to raising children in nature, enjoying life at a "second house," promoting urban green conservation, and creating satisfaction with life after retirement, this system is spreading from Germany to the Netherlands, the Czech Republic, Austria, Sweden, and other European countries.


A Cottage with a Farm
Each parcel has a cottage with a farm and utilities. Members can stay in this cottage, and long-term stays are available. It is indeed like a vacation house with a farm.

Overview of a Cottage with a Farm
Structure

2-story wooden building with a bathtub, toilet, air conditioning, water heater and so forth.

Area

Site:310㎡, Cottage:27.8㎡

Farmland

A farm, flower and shrub farm, and orchard.

Lawn

A green grass area is provided for relaxation.

Parking

Space for one vehicle is allocated to each parcel.

Other

Parking lot, spaces for farms, orchards, and flowerbeds.
Typical Map and Area of a Parcel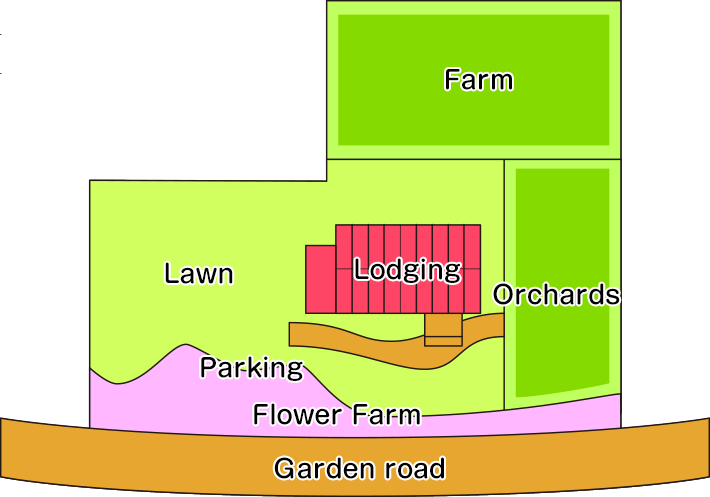 Lodging

27.9 sq m

Farm

64.0 sq m

Flower Farm

24.6 sq m

Orchards

60.0 sq m

Lawn

104.3 sq m

Parking

29.2 sq m

Parcel

310.0 sq m
POINT
Under the leadership of local experts, members can grow seasonal crops. They can also plant and grow their favorite flower and shrubs, and residence-specific trees.
Exchange Center
A focal point for exchanges between urban and rural communities, this complex houses a 120-seat assembly hall, a 40-seat conversation room (salon), and a processing room where miso and pickles can be processed.