Guide
A Cottage with a Farm
You can cultivate vegetables in all four seasons and plant your favorite flowers and shrubs.
Overview of a Cottage

Parcels

60 parcels

Structure

2-story wooden building with a bathtub,
toilet, air conditioning, water heater and so forth.

Area

Site:310㎡, Cottage:27.8㎡

Farm land

Farming Land A farm, flower and shrub farm, and orchard. Under the leadership of local experts, members can grow seasonal crops.

Parking

Space for one vehicle is allocated to each parcel.

Incidental facilities

Administration Building,Exchange Center, Park, Common farm、Amphitheater

Other

Parking lot, spaces for farms, orchards, and flowerbeds.



Typical Map and Area of a Parcel
Fee

Membership Fee

410,000 yen

Usage Fee

289,140 yen / 1Year

Others Fee

Utility fees and each event participation fees are required.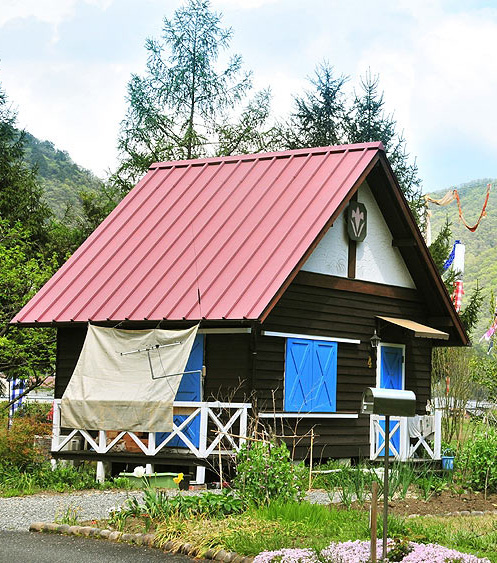 User guide
You will…
1Contact us
2Come visit the site
3Be on the waiting list
4When a lot is available
5We will contact you
6Confirm your will
7Contracts and payments
8Move-in (reside)
Application
To better "A communication hub for urban and rural communities",we take priority city residents.
"When a lot becomes available, we will make a contact in accordance with the waiting list".
We will confirm your intention when one is available for you.
"Application Form of Waiting List" is required to reside in FREUDEN Yachiyo.
Download Application Form by FAX
FREUDEN Yachiyo
414 Tawarada, Yachiyo-ku, Takacho, Taka-gun, Hyogo 677-0113
TEL:81-795-37-1580 (JP)
FAX:81-795-37-1584 (JP)
MAIL:freuden@nike.eonet.ne.jp
Please contact us for site tour, availabilities and other information.
Site tours and applications are free of charge.